Hayami 8" Kiritsuke
Regular price

$140.00

Sale price

$97.00

Unit price

per
The Choppn' 8" Kiritsuke will reignite your passion to cook.
The Choppn' 8" Kiritsuke is an all-purpose blade ideal for a wide variety of cutting tasks. The wide blade keeps knuckles off the cutting board and makes transferring food from board to pan - a piece of cake. Suited for all cutting styles - its curved belly allows you to switch up your technique to avoid fatigue.
Japanese forged 8" Damascus steel blade with balanced geometry for high performance cuts. The clipped point blade facilitates effortless pull-cuts and back-slices. Sharpened by hand, the double bevel edge ensures a long lasting, sharp edge 
The signature "Hayami" Octagonal Handle sets apart the Choppn' Kiritsuke. Crafted for ultimate comfort, a sturdy grip, and stellar performance. The stabilized wood boasts a multicolored finish making each knife 100% unique. Archaic black and brown handles are a thing of the past!
Features
8" Precision Forged Blade
Japanese VG-10 cutting core is wear and corrosion resistant, strong, and very fine-grained to enable a razor-sharp, long-lasting 16º edge
66-Layers of High-Carbon Stainless Steel support the core while offering strength, corrosion and wear resistance, high hardness, and helps food release from the blade
Hand finished Honbazuke edge construction protects and supports the vg10 cutting core; razor-sharp 16° edge for quick, easy cutting.
Unique Hayami handle design in multicolored stabilized wood provides a contemporary look, secure grip and balance, and is easy to maintain (colors cannot be chosen)
Hard Plastic Sheathe (lined with suede to protect the blade)
Customer Reviews
My knife is so sharp it easily cuts through many tough vegetables that my old knife couldn't. I have to b very careful as I've almost cut myself a few times. The design is also sleek and stylish.
Japanese knives are generally lighter and sharper than their German counterparts. Their thin, light construction makes Japanese knives great for fine, delicate tasks, like cutting vegetables or slicing fish. Sushi is a prime example - You don't cook it, so the freshness of the ingredients and how you prep it, is how you distinguish a great sushi chef and a mediocre one.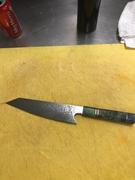 Beautiful and yet cuts perfectly!