Struggling with those stubborn chicken bones or uncooperative packets in your kitchen? I've been there too, and let me tell you, it's no fun wrestling with the packaging when all you want to do is cook a hassle-free meal.
That's why I rolled up my sleeves and dove head-first into the world of kitchen shears, rigorously testing numerous pairs to find the best ones that will make your cooking experience easier.
Get ready for a game-changer as we dive into our guide for "7 Best Kitchen Shears Of 2023". Buckle up on this culinary journey!
What are the Best Kitchen Shears of 2023
The Wusthoff 13′ curved poultry shears have made their way to the top of the 2023 best kitchen shears ranking. They surpassed the competition with their outstanding mix of functionality, durability, and user-friendliness.
Our Top Kitchen Shear Pick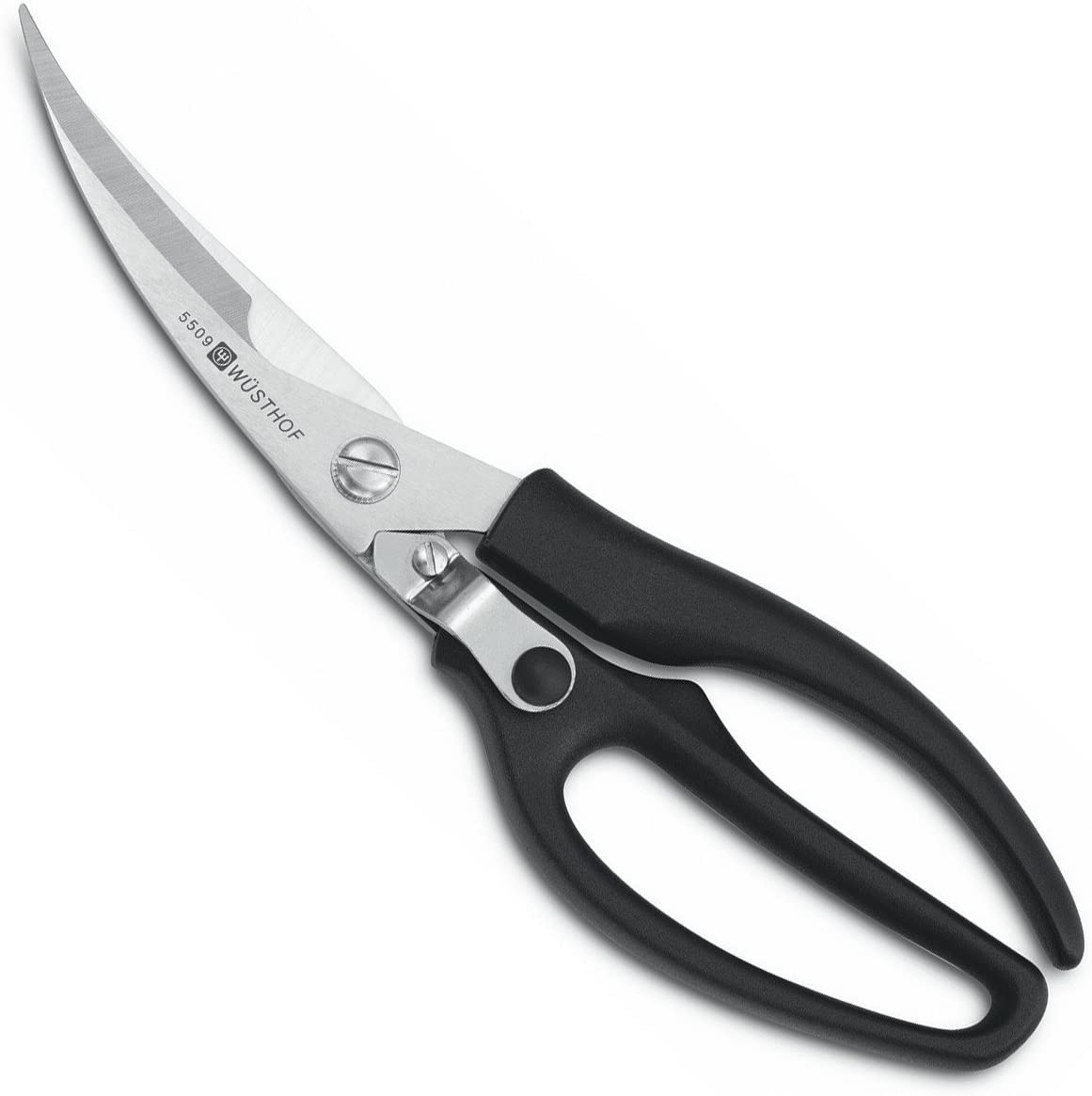 WÜSTHOF 13″ Curved Poultry Shears
A versatile addition to any kitchen, serving multiple purposes such as cutting herbs, trimming meats, opening packages, and performing various other tasks with their sturdy blades and built-in bottle opener.
However, other top contenders have made a significant impact and have also been included in our kitchen shears' top-choice selection. We will discuss their unique benefits and advantages and why they are top picks in the following review.
Keep reading to discover more about our top picks and find the perfect tool to elevate your cooking experience!
1. WÜSTHOF 13″ Curved Poultry Shears
Highlights
13″ poultry shears with a curved blade for easy and precise cutting
Made in Germany with high – quality stainless steel for durability and rust resistance
Ambidextrous handle design allows for comfortable use by both right-handed and left-handed individuals
Versatile kitchen tool that can be used for trimming, deboning, and cutting poultry
Ergonomic design ensures a secure grip and reduces hand fatigue during prolonged use
Black color adds a sleek and stylish touch to your kitchen utensil collection.
As someone who often prepares poultry dishes, the WÜSTHOF 13″ Curved Poultry Shears is a top-of-the-line tool for both home cooks and professional chefs. These shears stand out in terms of design, performance, and durability. Constructed with slightly curved stainless steel blades that remain sharp over time, these shears make quick work of cutting through chicken bones and joints effortlessly. The ergonomically shaped handles ensure secure grip even during prolonged use which is crucial when working on large batches.
Another notable feature about the Wusthof poultry shears is their balance between functionality and comfort. While some kitchen tools can strain hands after repeated usage, I found that these shears truly are designed to minimize hand fatigue – testament to Wüsthof's user-oriented approach to product development.
We chose this as our No.1 pick because of its high-quality build paired with innovative features like ergonomically shaped handles and curved blades that enhance cutting efficiency while ensuring comfortability during extended use periods. If you're looking for reliable poultry scissors that deliver in terms of value for money- look no further than the WÜSTHOF 13″ Curved Poultry Shears S/S Blades!
Pros
Curved blades allow for easy and precise cutting around joints and bones
13″ length provides leverage for effortless cutting through poultry
Stainless steel construction ensures durability and corrosion resistance
Serrated edges provide a secure grip on slippery poultry skin
Cons
Large size may not be suitable for those with smaller hands or limited dexterity
Curved blades may require more strength and effort to cut through tougher poultry bones
Higher price point compared to other poultry shears on the market
This WÜSTHOF 13″ Curved Poultry Shears is perfect for professional and home cooks who love to prepare their own poultry meals. Its ergonomic design and stainless steel blades make it an ideal tool for easily cutting through chicken, turkey or other types of fowl. Get this versatile kitchen tool today!
2. OXO Kitchen and Herb Scissors
Highlights
Compact and versatile design: The scissors have dimensions of 10.48 x 4.76 x 1.14 inches, making them easy to store and use in any kitchen.
Durable stainless steel construction: Made with high-quality stainless steel, these scissors are built to last and withstand regular use.
Micro-serrated blade edge: The unique micro-serrated blade provides precise cutting and prevents slippage for safer handling.
Multipurpose functionality: These scissors can be used for various tasks including cutting herbs, vegetables, poultry, and more.
Easy-grip handles: The kitchen-oriented handle design ensures a comfortable grip for effortless cutting without strain or fatigue.
Multicolor options available: Choose from a range of vibrant colors to add a touch of style to your kitchen tools.
From my experience, the OXO Good Grips Multi-Purpose Kitchen and Herb Scissors are a game changer in the kitchen. Their greatest strengths lie in their versatility and ergonomic design. The stainless steel blades, micro-serrated to grip items securely, effortlessly slice through a variety of materials, from foodstuffs like meat and vegetables to practical household items like twine and cardboard. This means less stress on your hands when preparing your favorite meals or tackling everyday tasks.
A feature I particularly love is the built-in herb stripper which makes removing leaves from tough stems fast and fuss-free – no more time wasted picking off tiny rosemary leaves! Plus, they're so easy to clean as the blades separate for thorough cleaning. Despite being packed with all these useful features, they've managed to keep them comfortable with soft cushioning pads that absorb pressure during cutting. My personal experiences coupled with its multitude of handy features is why we have ranked it No. 2 on our list.
In conclusion, the OXO Kitchen and Herb scissors deliver utility that goes beyond just snipping herbs or opening packages; they offer an all-in-one solution for common chores around your home while keeping user comfort at utmost priority – truly deserving their status as 'Good Grips'. You'll wonder how you ever got by without them once you add this pair of scissors to your kitchen toolkit.
Pros
Easy to clean with blades that separate for thorough cleaning
Comfortable grip with cushioning pads that absorb pressure while cutting
Versatile use for cutting through various items such as herbs, cardboard, twine, meat, and vegetables
Efficient herb stripper that effectively removes fresh herbs from tough stems
Cons
Hand wash only can be inconvenient for some users who prefer dishwasher – safe products
Micro-serrated blades may require more effort to cut through certain materials compared to non-serrated blades
Cushioning pads on grip may become uncomfortable or cause hand fatigue during extended use.
The OXO Good Grips Multi-Purpose Kitchen and Herbs Scissors are the perfect tool for busy cooks, gardeners and DIY aficionados who seek a safe and efficient way to cut through tough materials. With its ergonomic design, stainless steel blades and herb stripper, this versatile scissors makes food preparation easier than ever. So if you're looking for a reliable cutting tool to handle all your kitchen needs, get the OXO Kitchen and Herb Scissors now!
3. KitchenAid All-Purpose Shears
Highlights
Stainless steel blade for durability and precision cutting
Versatile kitchen tool suitable for various tasks
Ambidextrous handle design for comfortable use by both left and right – handed individuals
Sleek black color adds a modern touch to your kitchen tools
Compact size allows for easy storage in drawers or hanging on hooks
Trusted brand KitchenAid ensures high – quality craftsmanship and performance
As a proud owner of these KitchenAid All-Purpose Shears, I can confidently attest to their effectiveness in the kitchen. The micro-serrations on the blade edges enhance their cutting action, allowing me to cut through everything from twine and sturdy packaging materials to tough cuts of meat with relative ease and finesse. Made from heavy-duty stainless steel, they've held up admirably despite my daily use, showing no signs of dulling or degradation over time.
They're not just reliable; they're also comfortable! The soft-grip handles are a significant feature that offers comfort and control while handling different tasks around the house. Plus, this gadget came with its own protective sheath for safe storage – protecting both you and it when it's not in use. Speaking from personal experience after a long day when hand washing feels like another chore — tossing them into the dishwasher has not led to any damage as they are completely dishwasher friendly.
Placing this product at No. 3 on our list might raise eyebrows but considering its performance against price point tipped the scales slightly out of top two positions However, if you value quality construction combined with versatility in your kitchen tools then KitchenAid All Purpose Shears certainly ranks high on functionality and is worth every dime spent.
Pros
Blade guard for safe storage
Durable and strong stainless steel blades
Soft grip handles for comfort and control
Enhanced blades with micro – serrations for superior cutting experience
Cons
Blade guard may be difficult to put on and take off
Some users may find the shears to be a bit heavy
The black color may make it harder to spot if misplaced in the kitchen.
This kitchen essential is perfect for the busy home cook who wants a reliable, durable product to tackle any cutting task from slicing poultry to trimming twine. Pick up your KitchenAid All-Purpose Shears today and make meal prep easy!
4. Shun Multi Purpose Shears
Highlights
Versatile multi – purpose shears for various kitchen tasks
Designed with an ambidextrous handle for easy use by both right-handed and left-handed individuals
Features a durable stainless steel blade with a length of 3.5 inches
Stylish and sleek black design with a brushed finish
Made by the reputable brand Shun known for their high – quality kitchen tools
Lightweight and compact, weighing only 5.4 ounces, making it comfortable to hold and maneuver
The Shun Multi Purpose Shears are a must-have tool in any modern kitchen. With its multitude of features, these shears take versatility to the next level. Crafted from high-quality stainless steel, you can expect durability and performance for years to come – making it a worthy investment for those who enjoy cooking or simply need an all-around utility tool at home. What sets this design apart is not just about cutting; built into it are a nutcracker and jar opener as well as two useful screwdriver tips incorporated right into each handle.
Taking on tasks from trimming flower stems and snipping herbs to opening tightly sealed jars becomes more convenient with one reliable product: the 3.5-inch bladed Shun Kitchen Scissors DM7300 in sleek black! Its serrated edge can cut through tough or fibrous materials effortlessly, while the handles' plastic over-mold guarantees secure grips even when wet – no worries about slipping here. For easy cleaning and maintenance, the blades easily separate then lock back together after washing without hassle.
This set of multi-purpose shears provides viability beyond your kitchen needs too—with handy features like lid lifters and screwdriver tips—you could tighten loose screws on pot lids or cabinet hinges without needing extra tools. The Shun Multi-Purpose Shears undoubtedly redefine what 'multi-functionality' stands for within every household setting with its outstanding list of applications wrapped up in one compact yet powerful package.
Pros
Easy to clean and maintain with blades that separate easily for washing
Provides a secure grip even when wet, thanks to the comfortable and safe handle design
Versatile tool with built – in features like a nutcracker, jar opener, bone notch, lid lifter, and screwdriver tips
Made of high-quality stainless steel for long-lasting durability and performance in the kitchen
Cons
Blades may not stay sharp for an extended period of time
Handles may feel bulky and uncomfortable for some users
Some customers have reported difficulty in separating the blades for cleaning
The perfect customer for the Shun Multi Purpose Shears is an experienced or aspiring chef who values high-quality kitchen tools. These shears will give them the durability and performance needed to tackle any cutting task in the kitchen with ease, so they can focus on creating amazing meals. Get your own set of Shun Multi Purpose Shears today!
5. J.A. Henckels International Take-Apart
Highlights
Take – apart design for easy cleaning and maintenance
Made with durable stainless steel construction
Ambidextrous handle for use by both left and right – handed individuals
Features a blue color for a stylish and unique look
Versatile tool that can be used as kitchen shears or a knife accessory
Manufactured by Zwilling J.A. Henckels Cutlery, a reputable brand in the industry.
J.A. Henckels International Take-Apart is a high-quality kitchen tool that meets both the functional and durability needs of any culinary enthusiast. The shears feature quality stainless steel blades for corrosion resistance, ensuring long cutting life, even with heavy use. The design incorporates a micro serrated blade edge which ensures slip-proof cutting – an underrated but important feature when dealing with wet or slippery food items.
The heavy-duty break-resistant handles are coupled with take-apart functionality making cleaning hassle-free and promoting hygiene in your kitchen space – they're dishwasher safe, though hand washing is recommended to maintain optimal performance over time. A noticeable addition is the serrated center area in the handle designed to open bottles and crack nuts – a small detail that adds immense versatility to this tool.
Whether you're trimming poultry or opening packaging, these shears really shine in their multi-purpose capacity saving precious time and effort. From my own experience using J.A Henckels' product line in the kitchen, these shears live up to their brand's reputable tradition of excellent craftsmanship without compromising practical utility. Overall, this pair of scissors proves indispensable when it comes to daily kitchen tasks while offering reliable toughness for heftier duties.
Pros
Dishwasher safe for easy cleaning
Break – proof handles for durability
Serrated center area in handle can open bottles and crack nuts
Corrosion resistant stainless steel blades for long cutting life
Cons
Some users may find the shears too heavy or bulky
The serrated center area in the handle may not be very effective for opening bottles or cracking nuts
While dishwasher safe, hand washing is still recommended which can be inconvenient for some users
This J.A. Henckels International Take-Apart is ideal for the busy home chef who wants a heavy-duty kitchen shear that can stand up to any task with ease and make clean up a breeze! Get yours today to experience optimal comfort, convenience, and performance at your fingertips.
6. Acelone Premium Heavy Duty
Highlights
Compact and portable design: The Acelone Premium Heavy Duty kitchen shears have a small size of 8 x 3.7 x 0.35 inches, making them easy to store and carry around.
Durable construction: Made of high-quality stainless steel, these shears are built to last and withstand heavy-duty use in the kitchen.
Versatile functionality: These multi-function shears can be used for a variety of tasks such as cutting poultry, herbs, vegetables, and even opening bottles or cracking nuts.
Comfortable grip: The ambidextrous handle is designed for both left-handed and right-handed users, ensuring a comfortable grip while using the shears.
Sharp serrated blade: The serrated blade provides excellent cutting performance, allowing you to easily tackle tough ingredients without slipping or tearing.
Stylish color combination: With its vibrant orange and black color scheme, these shears not only perform well but also add a touch of style to your kitchen tools collection.
The Acelone Premium Heavy Duty Kitchen Shears definitely live up to their name. Made of 3CR14 steel, these kitchen tools are ultra-sharp and robust, equipped with a rust-resistant and corrosion-resistant finish that ensures longevity. The stainless steel embedded in the non-slip handle ensures solid and safe use, making them comfortable and safe for a wide range of kitchen tasks.
These scissor's exceptional features go beyond being just shears; they also function as a nutcracker, bottle opener, scale scraper – all while maintaining an impeccable performance for various kitchen tasks such as cutting chicken/poultry/fish/meat/vegetables/herbs or even slicing pizza. With the unique addition of a micro-serrated edge designed for slip-proof cutting, you get precise cuts every time. This means whether you're right-handed or left-handed; your cooking prep work will be faster, easier, and safer.
In conclusion, if you're seeking high-quality kitchen shears that provide multi-function utility with comfortability in mind – then look no further than the Acelone Premium Heavy Duty Shears! They truly bring added convenience to your kitchen work with their lifetime guarantee showcasing how much faith this brand has in its product offering unmatched customer reassurance.
Pros
Practical, durable, and useful in the kitchen
Comfortable and safe grip for various cutting tasks
Made of rust-resistant, corrosion-resistant stainless steel
Can be used for multiple purposes in addition to kitchen tasks
Cons
May be too heavy for some users
The orange black color may not appeal to everyone's aesthetic preferences
Some users may find the scissors difficult to clean and maintain
The Acelone Premium Heavy Duty Shears are perfect for busy home chefs and professional cooks looking for a kitchen tool that will make food preparation easier and faster. Get yours now to experience the comfort, safety, and quality of these high-performance scissors!
7. Messermeister 8-Inch Take-Apart
Highlights
8 – inch blade made of stainless steel for durability and precision
Take – apart design for easy cleaning and maintenance
Ambidextrous handle made of stainless steel for comfortable grip
Guaranteed lifetime warranty against defects in materials and workmanship
Classic style with a brushed finish gives it a sleek look
Versatile kitchen tool that can be used as both shears and a knife
As a leading name in the kitchen cutlery industry, Messermeister has outdone itself with the 8-Inch Take-Apart Kitchen Scissors. Crafted meticulously using high-quality stainless steel, these scissors undoubtedly stand testament to their commitment to quality and innovation. Decked out with multiple features including a screwdriver, nut cracker, jar lid opener/gripper, bottle opener and a bone + twig cutter; these scissors are more than just your average kitchen tool. They're an all-in-one solution designed to meet various culinary needs.
The enduring design of the Messermeister 8-inch take-apart scissors caters seamlessly to both lefties and righties. Be it opening food packaging or accomplishing intricate tasks like dicing bacon or skinning chicken; this product offers superior comfort and ease-of-use while being extremely functional as well. Further enhancing their convenience is their ability to easily separate for thorough cleaning – a significant advantage when it comes maintaining hygiene in your kitchen.
Overall, from clipping herbs to trimming artichokes or cracking nuts wide open, every task becomes simple with the Messermeister 8-Inch Take-Apart Kitchen Scissors. Not only do they elevate everyday cooking experiences with their multi-purpose design but also reinforce how essential good-quality accessories are in any modern-day kitchen setup.
Pros
Durable stainless steel construction for long – lasting use
Includes multiple versatile tools such as a screwdriver, nut cracker, and bottle opener
Suitable for both left-handed and right-handed individuals
Easy to clean with the ability to easily separate for hygienic cleaning.
Cons
May be too expensive for some customers
The additional features may not be necessary for all users
Some users may find the scissors to be too large or bulky
This Messermeister 8-Inch Take-Apart Kitchen Scissors is perfect for the home cook who loves convenience and precision. Its versatile design makes it an ideal tool for lefties and righties alike, allowing them to easily open food packaging, clip herbs, dice bacon and more. If you're looking for a quality kitchen tool that can make meals simpler and easier, this is it! Try the Messermeister 8-Inch Take-Apart Kitchen Scissors today!
What are Kitchen Shears?
Kitchen shears are a versatile and essential tool widely used in cooking. Unlike your regular pair of scissors, they're designed specifically for kitchen tasks. With blades typically made from stainless steel, these multi-purpose kitchen shears can be used for everything from snipping herbs to cutting through poultry and chicken bones.
Many come apart for easy cleaning, which is a significant advantage when dealing with raw meat or sticky substances.
Some models even include additional features like an herb stripper built into the handle as seen on the OXO Kitchen and Herb Scissors – proof that a good pair of kitchen shears can do much more than just cut! They are often heavier and sturdier than general-purpose scissors since their main purpose includes tackling complex jobs like breaking down poultry or trimming fat off meat.
And let's not forget how invaluable they can be while trying to open stubborn packaging! All this functionality packed in one kitchen tool makes them one of the mightiest tools you'll ever store in a drawer or hang by your cutting board.
How can Kitchen Shears Benefit you?
Having a quality pair of kitchen shears brings real value to your culinary world. These versatile, multi-purpose tools offer a myriad of benefits that can simplify various kitchen tasks – from cutting through poultry and snipping fresh herbs straight off the stem, to opening food packages and slicing thin pizza slices effortlessly.
Unlike using a typical kitchen knife on a cutting board, both the convenience and control you get with shears are unmatched.
My stainless steel shears have become an indelible part of my cooking choreography. Often reaching for them over my chef's knives when I need precision cutting or trimming fat off meats.
They're also fantastic at cracking nuts or quickly snipping dried fruit into smaller pieces for recipes. Plus, did you know most come apart for easy cleaning? Even better, many kitchen shears on the market today are dishwasher safe – making tidying up after meal prep even more straightforward!
One thing is sure; once you discover all the ways they can be used around your home kitchens – such as cutting parchment paper or swiftly handling heavy-duty tasks like chopping chicken bones – it's hard not knowing how you existed without them in your utensil drawer before! The right pair of shears is indeed an underrated yet absolute game-changer in any busy culinary space.
Buyers Guide: How we conducted our research
In the quest to deliver you a precise list of the best kitchen shears for 2023, I embarked on extensive research that involved evaluating dozens of models. My criteria were grounded in practical factors like price, materials used, length and weight of each pair of shears, as well as how easy (or complicated!) they are to clean.
Various types including hinged scissors to more specialized ones like ridged or serrated kitchen shears didn't escape my close scrutiny.
To ensure utmost credibility and reliability, this rigorous process was reinforced by expert guidance – yes indeed! Renowned professional chefs lent their expertise by testing models from iconic brands such as Wusthoff, OXO Good Grips, Shun, among others.
They cut everything from herbs to nuts and meat providing invaluable insights into the durability and versatility of each model.
Nowhere did my thoroughness waver more than when it came to user reviews. Scanning through countless feedbacks allowed me not just see but understand what users loved.
Hinge functionality? Easy cleaning mechanism? Durability? Affordability? You name it; I made sure every detail counted towards making the final selection for top seven kitchen shears lineup for 2023.
Conclusion
In conclusion, having a good pair of kitchen shears is essential for any home cook or professional chef. After conducting extensive research and testing, we have determined that the WÜSTHOF 13″ Poultry Shears Curved and the OXO Kitchen and Herb Scissors are the top picks for 2023.
The WÜSTHOF shears offer precision cutting with their curved blade design, while the OXO scissors provide versatility and durability with their stainless steel construction. Don't miss out on these must-have kitchen tools – order your WÜSTHOF poultry shears and OXO kitchen scissors today!